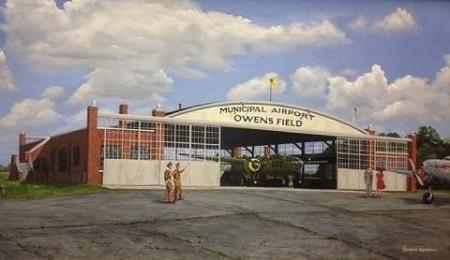 The historic Curtiss-Wright Hangar, located at the Airport, was the first permanent structure and is one of only a handful remaining in the Country.  
It is a tangible link with the American aviation pioneers Glenn Curtiss, and the Wright Brothers.
The hangar was last used in the early 1980s and has been vacant since then.  
Various efforts have been made in the past to restore the hangar as was accomplished with Hangar One at Los Angeles International Airport (LAX).  We are now very pleased to report that, on the recommendation of the Richland County Airport Commission, the Richland County Council, in their Special Called Meeting of October 12, 2015, voted unanimously to enter into a contract to sell the hangar and surrounding property to Hangar Preservation Development, LLC (now known as Hangar Owner, LLC).  A condition of this contract is that a Historic Preservation Easement be donated by the new owners to the Palmetto Trust for Historic Preservation which will require that the hangar be restored to reflect its most historically significant period.  Oversight of the restoration of the hangar to National Park Service standards will be provided by the staff of the South Carolina State Historic Preservation Office (SHPO).  The tenant identified to occupy the restored hangar is the Hunter-Gatherer Brewery!  The sale was closed on May 5, 2016 and we look forward to restoration starting soon!  For more on the recent sale, watch this report from local media outlet ABC Columbia.
The following documents have been prepared in anticipation of this future restoration: