Airport Names
The Airport was renamed in 2008 in honor of Jim Hamilton, longtime Fixed Base Operator (FBO) and volunteer Airport Manager, and LB Owens, Columbia's "Flying Mayor" who first developed the Airport.  Prior to that, it was known as "Columbia Owens Downtown Airport" to emphasize the proximity, convenience, and ease of access to our Capital City.  It was known originally (1930) as "Municipal Airport Owens Field" or by the more common shortened version – "Owens Field."
A Terminal Building Lobby display with biographies and videos of these two aviation notables was installed in 2010 and is reproduced on this page.  
Jimmie L. "Jim" Hamilton
In honor of longtime Airport Manager, aviator, and humanitarian Jim Hamilton, Richland County Council approved the renaming of the Airport to the Jim Hamilton – L.B. Owens Airport in December 2008.
Credited to ushering the airport into the modern day era, Mr Hamilton served as Airport Manager of the Columbia Owens Downtown Airport for more than forty years until his retirement in June 2008.  Mr Hamilton is recognized and securing State and Federal aviation funds to rebuild and redesign the airport. He is also responsible for implementing significant safety improvements at the airport, including reducing the number of runways and orienting them away from nearby area neighborhoods.
The 1993 South Carolina Aviator of the Year and South Carolina Aviation Hall of Fame Inductee, Mr Hamilton is the recipient of numerous awards and honors.  He is a two-time recipient of the State of South Carolina's highest civilian honor, the Order of The Palmetto.
For his innumerable good works in the community, including his work flying burn patients to Shriners Hospitals throughout the United States as part of the Jamil Flying Fezzes, his work with the Boy Scouts of America, Habitat for Humanity, and a host of other causes, Mr Hamilton has garnered national recognition.
Mr Hamilton married to Pat Hamilton, his wife of more than forty years.  They are the parents of five children.
"To have your life's work, the fruits of that labor, recognized is an honor," Mr Hamilton was quoted in The State newspaper after the renaming ceremony.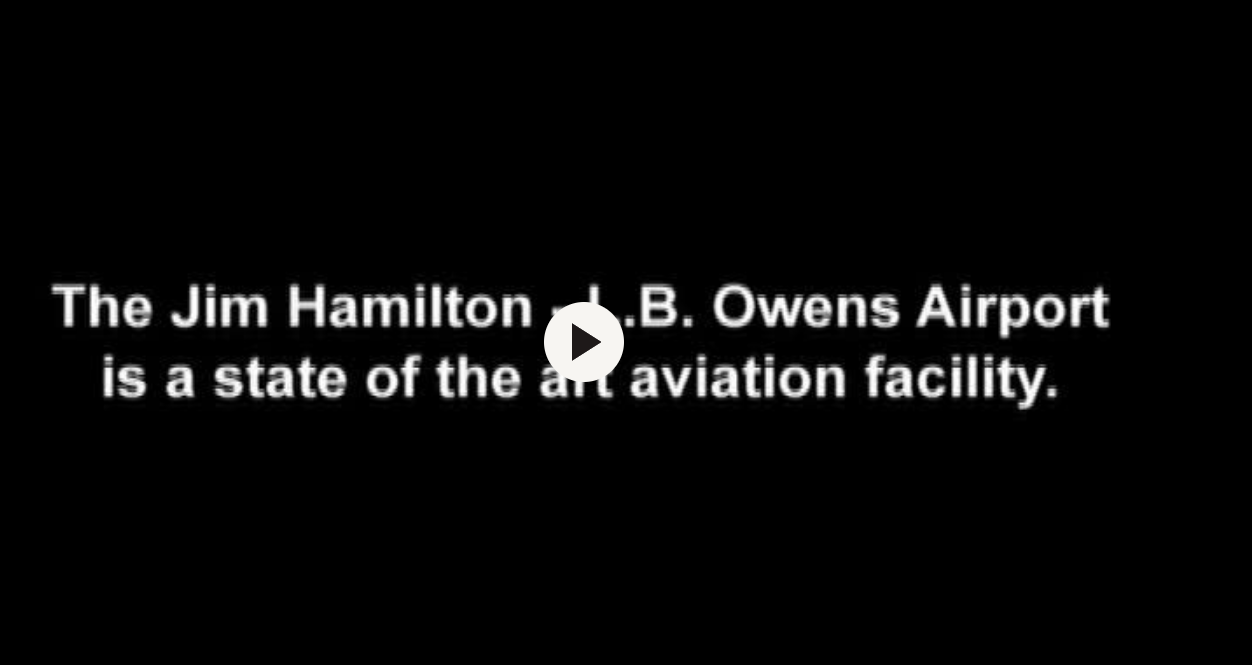 Mayor LB Owens
Owens Field, Columbia's first municipal airport was dedicated on April 24, 1930, in honor of Columbia's "Flying Mayor" Dr LB Owens.
Dr Owens was a very popular physician, elected official, and aviation enthusiast.  He served the City of Columbia as its Mayor for an unprecedented sixteen years, from 1925 – 1941.
Mayor Owens visionary leadership and keen support of aviation is often credited with helping to make "Owens Field" the major center of civil and military aviation in the Midlands during the World War II era. In fact, during the war, President Franklin D. Roosevelt landed at Owens Field during a visit to the Midlands.
Eastern Air Transport began passenger and airmail service in 1932 which was another watershed moment at the Airport.  Owens Field remained the major commercial airport for Columbia until airline service was relocated to the Columbia Metropolitan Airport in 1947.
Dr Owens earned his medical degree from The Medical College of South Carolina in Charleston in 1893, after having previously completed a two-year pharmaceutical course at the University of South Carolina.
Dr Owens was married to Clara Stewart Capers in 1895, and they were the proud parents of two children, including his son, Dr Frank Capers Owens, who continued his father's legacy of public service and support of aviation.
Upon Dr Owens' death in April 1941, his obituary read as a testament to the tremendous impact he had on aviation in the Midlands and South Carolina.
"Although not a native of South Carolina, Doctor Owens claimed his right to be called a son of Columbia." – The State Newspaper.